We particularly specialise in water softeners for large domestic homes and have a range of equipment suited for all properties. With our extensive knowledge in the commercial industry, we know how important it is to achieve the right flow rates and quantity of water throughout the home, especially for pressurised hot water systems, and multiple bathrooms, with power showers. We also guarantee complete discretion if you are a high-profile household. Whatever size of property we can offer the right domestic water treatment system to suit your needs. We offer design to installation, complete turnkey solutions. This would include a water softener for the main water supply, to protect your heating system and provide luxurious water to use. This would also protect your sanitary ware and appliances from damage caused by hard water.
OUR DOMESTIC WATER TREATMENT SOLUTIONS
Energy efficiency
Significant levels of energy may be lost because of calcium deposits in many home applications, from water heaters and kettles to washing machines. The use of soft water minimises scale deposits and ensures devices function to their full potential.
Soft, clean water
Using soft water can immediately bring noticeable improvements in various areas of a home, for example, reducing the amount of detergent and fabric softener needed when using a washing machine. In addition to direct cost savings, clothing items are less likely to lose their colour or shrink.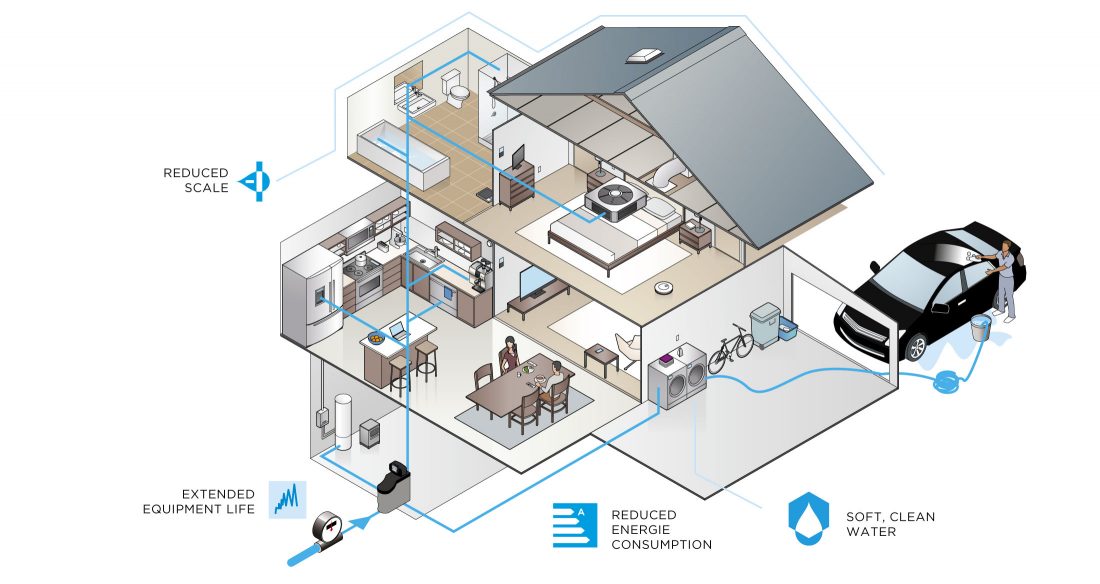 Scale in bathrooms and in kitchens
When using softened water, less calcium deposits are left on tiles, taps, shower walls and toilet bowls, saving time and finances spent on cleaning, as well as reducing potential health risks.
Extended equipment life
The limescale found in coffee machines, washing machines and on shower heads affects not only efficiency, but also the lifespan of equipment. By using softened water, calcium deposits are significantly reduced and therefore, the functionality of equipment is noticeably improved.
APPLIED TECHNIQUES OF WATER TREATMENT FOR DOMESTIC USE
For private use specifically, Lubron supplies a wide range of compact water softeners. The system is installed behind the water meter, providing the entire house with softened water. Depending on the specific application and applicable laws and regulations, the best solution of domestic hard water treatment and softening is selected for the property.
Please contact us if you would like to find out more about our household water treatment services.
Water Softening Systems
Our domestic water treatment services
Advice and support
As a partner of many installers, suppliers and consultants Lubron provides customised Domestic water treatment systems. Lubron considers the quality requirements for the final product and its specific application, tailoring our advice and consultancy to create a unique solution.
Design and assembly
When designing a process water system, Lubron takes into account all aspects of end use such as: quality requirements, applicable laws and regulations, energy efficiency, maintenance and operating costs. Every installation is professionally designed and manufactured to Lubron's leading European standards.
Commissioning and maintenance
As a whole project partner, following installation, Lubron takes care of the complete commissioning process, including training on operation and maintenance. Our industry-leading maintenance service supports operations and enhances the life of your investment. Should you experience any problems, you have the assurance of support day or night from our 24/7 response team.