Our solutions for water efficient buildings
Water efficient buildings require the smart specification and configuration of water treatment technologies and products. Our specialist approach will also identify potential areas of water efficiency, including the use of alternative supplies such as boreholes, rainwater and greywater supplies. Whether you are a developer, a facilities manager or a self-builder, Lubron can add value to
your project.
For more information on our solutions for water efficient buildings, contact us here.
Virus and bacteria control
Air humidification systems and equipment represent a potential source of transmission of viruses and bacteria, including legionella. By using demineralised water to sterilise equipment, health risks can be negated. Lubron's building water treatment specialists understand the challenges, have extensive knowledge of legislation and regulations and can specify the appropriate technology to deliver the best performance for every environment.
Energy efficiency
Specifying or improving energy efficiency is key to any modern water efficient building. Heating and cooling costs represent a significant share of energy consumption. A sustainable building relies on efficient cooling and heating systems. With the correct water treatment, heat transfer can remain optimal for longer, resulting in fiscal savings and a reduced carbon footprint.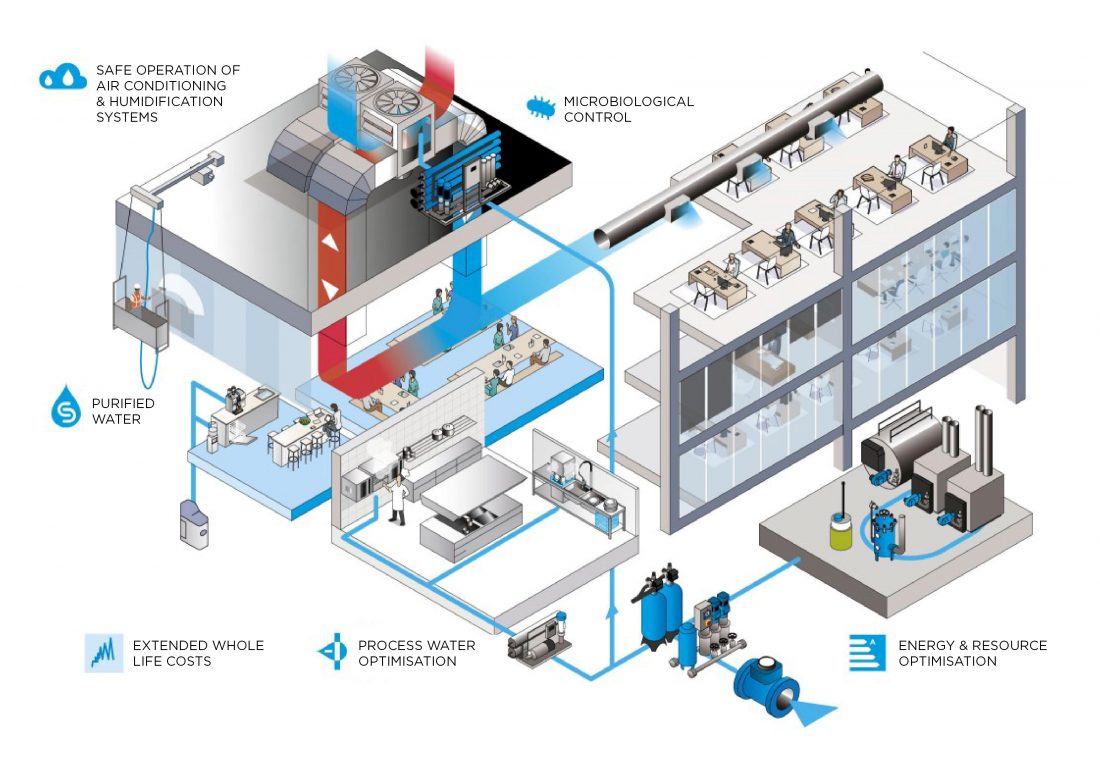 Performance and reliability
From water sources to heating and cooling systems, efficient water treatment improves the sustainability and running costs of any building. Lubron's team of building water treatment services experts will identify opportunities for optimum performance at maximum efficiency, with solutions that will stand the test of time. From a listed historic building to a state of the art new development, Lubron can design, manufacture and maintain the perfect solution.
Depending on water quality requirements, a number of techniques can be applied in the building services sector.
METHODS OF MAKING BUILDINGS WATER EFFICIENT
BUILDING SERVICES CASE STUDIES
Our services for the building industry
Advice and support
As a partner of many installers, suppliers and consultants Lubron provides customised water treatment systems for the building industry. Lubron considers the quality requirements for the final product and its specific application, tailoring our advice and consultancy to create a unique solution.
Design and assembly
When designing a process water system, Lubron takes into account all aspects of end use such as: quality requirements, applicable laws and regulations, energy efficiency, maintenance and operating costs. Every installation is professionally designed and manufactured to Lubron's leading European standards.
Commissioning and maintenance
As a whole project partner, following installation, Lubron takes care of the complete commissioning process, including training on operation and maintenance. Our industry-leading maintenance service supports operations and enhances the life of your investment. Should you experience any problems, you have the assurance of support day or night from our 24/7 response team.