HOSPITALITY WATER TREATMENT
With our hospitality and catering water treatment services, we help the hotel and catering industry achieve improved food and beverage quality, plus remarkable results for ware washing and laundry through purified and soft water solutions. Treated water not only guarantees hygiene but tastes better. It also prevents serious and expensive damage to equipment and saves money on energy and chemicals.
Lubron has been supplying commercial water softeners and Reverse Osmosis units for dishwashing and glass washing for many years, to some of the biggest names in the catering industry. Specially designed commercial equipment, from small cost-effective standalone units, to high flow equipment for the largest of dishwashers. We can supply hot and cold, commercial water softeners and Reverse Osmosis units for stain free water for the highest quality results. We can soften the water for boiler feed only or the whole building. Please contact us for more information and a free design and quotation.
BENEFITS OF USING OUR SOFTENERS AND REVERSE OSMOSIS EQUIPMENT FOR THE CATERING INDUSTRY
Reduce maintenance costs, increase profits
By using softened water in kitchen equipment, scale deposits are minimised and maintenance costs are kept low. After installing Lubron water treatment products, potential equipment malfunctions are significantly reduced, providing reassurance for you and your business.
Less cleaning
The high standards of cleaning demanded throughout the industry, require the removal of scale from tiles and taps in bathrooms, toilets and kitchens. By using softened water, scale deposits can be reduced significantly, resulting in both time and cost savings. Whatever the size of your business, big or small, Lubron provides the best water treatment solution.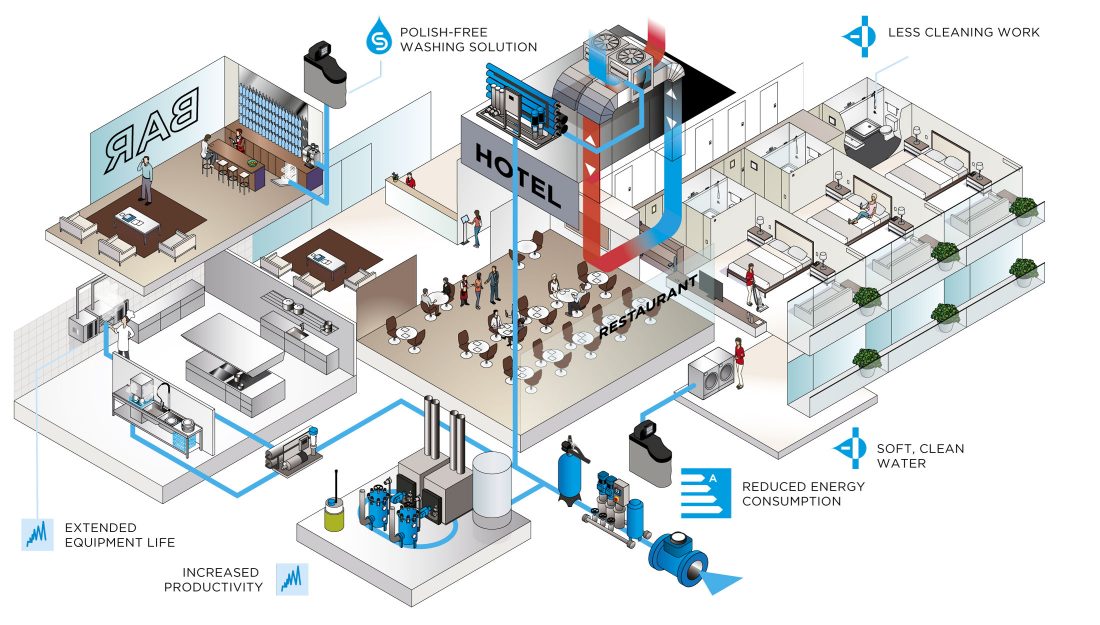 Polish-free cleaning solution
Polishing is not only time-consuming and unhygienic, but also often leads to damage or breakage. By using the Reverse Osmosis process, Lubron provides solutions with high quality results. In order to determine whether a polish-free water solution can be applied, both the dishwasher and rinse water have to be tested.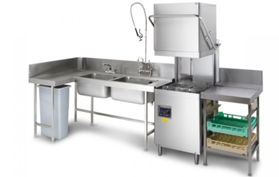 WHAT IS THE SMALLEST RO YOU OFFER?
If you have a small glass washer, then we have a standalone unit called the LK160 which in most situations does not require a water softener, and will provide 160ltr/hour of RO water directly into your glass washer. A cost-effective solution and easy to install and maintain.
CAN WE INSTALL THE RO SYSTEM OURSELVES?
We offer full support for you to install yourself but would advise for larger plants that we commission this for you.
DO YOU COVER MY AREA?
We cover the whole of the UK, with our network of engineers that will service your plant.
WHAT EXPERIENCE DO YOU HAVE IN GLASS WASHING MACHINES?
We have worked with some of the largest suppliers of glass washing and dishwashing machines for over 20 years and have many customers in this field. We have a specially designed plant tried and tested to cover most sizes of washers.
Depending on water quality requirements, a number of techniques can be applied in the hospitality sector.
OUR SOLUTIONS FOR CATERING SERVICE
Water softening
The right water softening solution can eliminate scale deposits in equipment. Additionally, in cooling and boiler systems, the service life and efficiency of equipment can be significantly extended by preventing corrosion and scale deposits.
Water Softening Systems
Demineralisation
Salts and minerals can be found in pipes and water supplies. In order to treat this issue, water is desalted, a process also referred to as desalination, using Reverse Osmosis (RO). To achieve purified water, the RO water receives a secondary treatment with electro-deionisation (EDI).
Water Demineralisation
OUR HOSPITALITY WATER TREATMENT SERVICES
Advice and support
As a partner of many suppliers, installers and consultants, Lubron provides customised hotel water treatment systems for the hospitality sector. Lubron considers the quality requirements for the final product and its specific application, tailoring our advice and consultancy to create a unique solution.
Design and assembly
When designing a process water system, Lubron takes into account all aspects of end use such as: quality requirements, applicable laws and regulations, energy efficiency, maintenance and operating costs. Every installation is professionally designed and manufactured to Lubron's leading European standards.
Commissioning and maintenance
As a whole project partner, following installation, Lubron takes care of the complete commissioning process, including training on operation and maintenance. Our industry-leading maintenance service supports operations and enhances the life of your investment. Should you experience any problems, you have the assurance of support day or night from our 24/7 response team.
Contact us here for more information on our catering water treatment solutions.