At Lubron, we specialise in carrying out TMV servicing for residential, commercial, and industrial clients, making sure Temperature Mixing Valves (TMVs) function optimally in various settings. Since faulty TMVs can have such serious health and safety implications, it's vital that they are serviced regularly by a competent professional. Our team of experienced technicians can carry out a TMV service that's tailored to your exact requirements, ensuring consistent water temperatures and compliance with the latest safety regulations.
What does our TMV service involve?
When you choose Lubron to service your thermostatic mixer valves, you can expect the work to be carried out to the highest possible standards and specifications. Our technicians are experienced in working with various TMV models across different industries, ensuring that we provide reliable and precise servicing every time. Our TMV servicing includes:
A comprehensive inspection. Our technicians will carry out a detailed assessment of a TMV to identify any potential issues. We will carefully inspect the valve, check that its regulating temperature correctly, and assess its overall condition.
Maintenance and repairs. If necessary, we'll carry out TMV maintenance and repairs. We may perform minor adjustments or replace broken or worn-out components to keep the TMV operating optimally. Carrying out regular TMV maintenance helps to prevent potential failures.
We carry out precise calibration and testing to check that the valves are accurately maintaining safe water temperatures at a safe and consistent level. We'll measure and record the mixed water temperature to ensure it is between 39°C and 43°C.
Clean, scale and disinfect. As part of a TMV service, we'll isolate each thermostatic mixer valve and then clean, descale and disinfect the valve components and fine mesh strainers. This helps to remove accumulated sediment, debris, or microbial contaminants, keeping the TMV clean, hygienic, and functioning optimally.
Compliance checks. We will ensure that your TMVs adhere to the latest regulations, with our team providing you with all the necessary documentation and certification once the service is completed.
Why choose Lubron for TMV servicing?
At Lubron, we're proud to be the first choice company for TMV servicing. We've served many residential and commercial clients throughout Essex and further afield over the years, providing them with peace of mind that their TMVs are expertly maintained to the highest standards of safety and functionality. We gained a fantastic reputation for our TMV servicing, gaining glowing reviews from many satisfied clients.
Whether you need a service carried out on a thermostatic shower mixer valve or require maintenance for a complex industrial-grade TMV system, our team can assist. We possess the expertise needed to meet a wide range of TMV servicing needs.
To discuss your requirements, call us on 01206 866444. Alternatively, email us at sales@lubron.co.uk and we'll get back to you as quickly as we can.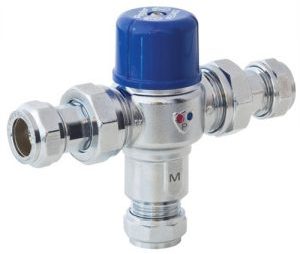 What does TMV stand for?
TMV (Thermostatic Mixing Valve) are valves that use a temperature sensitive element and blend hot and cold water to produce water at a temperature that safeguards against the risk of scalding
What types of TMV's are available?
There are mainly two types of TMVs.  These are the difference between TMV2 and TMV3 valves:
TMV2
TMV2 valve is the most common valve used in domestic settings.
It must be regularly maintained to meet the national and international standards are met, valves designed to work with water pressure that falls within 0.1 -1.0 bar (BS EN 1287) and 0.5 bar – 5.0 bar (BS EN 1111)
TMV3 
Unlike TMV2s, TMV3 is mostly used in a hospital or healthcare environment. You will rarely find a TMV2 in care homes or hospitals. This is because TMV2 does not meet NHS requirements. TMV3 is also designed to work with water pressure that falls within 0.2 bar – 1.0 bar (Low Pressure D08) and 1.0 – 5.0 bar (High Pressure D08).
What temperature should a TMV valve be set to?
TMVs are fitted to minimise scald risk, they require regular maintenance to ensure hot water is reaching the outlet at a suitable temperature.
The maintenance usually includes:
Fail-Safe Testing
Full Annual Service
Lubron can test, failsafe, service, calibrate & replace all types of industry approved TMVs
Can I install a TMV valve that feeds many outlets to reduce install and maintenance cost?
No – guidance recommends valves that are incorporated into the tap or installed as close to the outlet as possible usually within 2 meters. This is to reduce the Legionella growth after the valve. As valves are set to 38-46°C this is an optimum growth temperature therefore the balance of scalding versus bacteria growth need to be carefully assessed.