Agricultural Water Treatment
Water is used in a variety of agricultural water treatment processes which require a specialised approach. On the basis of a comprehensive analysis of the process, water consumption and the quality of the final product, Lubron Water delivers a customised design for the best results with the lowest possible operating costs.
Many customers have iron filtration to treat their borehole supply. We have worked for many years removing iron from water to use on irrigation or process, from tomatoes to flower producers. An effective iron filtration system lasts for many years with minimal maintenance, we have customers with systems over 20 years old. We fully design the right system for you following an initial water analysis.
We firstly oxygenate the water with air so the iron can be collected on the filter media. Then the iron filter will clean itself automatically at a pre-determined interval, flushing the iron to drain. This is determined by the amount of iron in the supply water, and the quality required.
We can provide iron filters of any size and application.
Benefits of Lubron's wastewater treatment for agriculture
Optimal crop development
Every crop has specific needs to enable it to deliver optimum yield. Whether using rainwater or a surface water source, the water composition must be correct for the specific application. Our specialists speak your language, understand the challenges, have extensive knowledge of legislation and regulations, and can work with you to deliver agricultural wastewater treatment plants and technology shaped around your target performance.
Reducing wastewater
With the right water conditions, such as low salt (sodium) concentrations, water can be reused more often. This ensures optimal use of fertilisers, resulting in less water wastage, benefiting the environment with a reduction in surface water pesticide levels.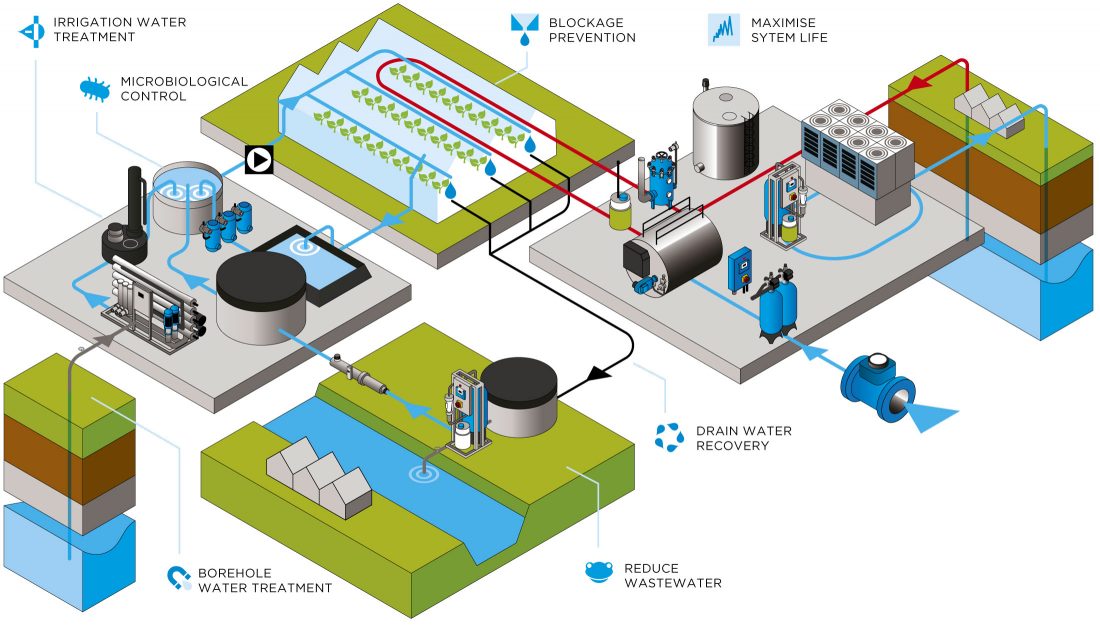 Resource efficiency
Corrosion and scale deposits can lead to significant energy loss, for example in heating systems, such as boilers and CHP. Through the water softening process, deposits are significantly reduced, equipment operates more efficiently and lasts longer, resulting in savings in time and capital expenditure.
Performance and reliability
When it comes to heating, irrigation water, or air humidification, dirt, lime and biomass formation can be damaging and lead to clogging of the system. By minimising these elements, the service life of the system is extended and service interruptions can be prevented. Lubron's extensive range of highly efficient solutions includes: cooling and boiler systems, CHP and heat pumps.
Reducing operating costs
A well-designed farm water treatment system reduces operating costs. Our experts work with you to specify and consider whole project expenditure and operational requirements. Lubron delivers the latest design and technologies to ensure our systems are cost-effective, sustainable and reliable.
Depending on the water quality requirements, a number of techniques can be applied in the agriculture sector.
Our agricultural wastewater treatment solutions
Lubron agricultural water treatment services
Advice and support
As a partner of many installers, suppliers and consultants, Lubron provides customised agricultural wastewater treatment systems for the agriculture sector. Lubron considers the quality requirements for the final product and its specific application, tailoring our advice and consultancy to create a unique solution.
Design and assembly
When designing an agricultural wastewater treatment system, Lubron takes into account all aspects of end use such as: quality requirements, applicable laws and regulations, energy efficiency, maintenance and operating costs. Every installation is professionally designed and manufactured to Lubron's leading European standards.
Commissioning and maintenance
As a whole project partner, following installation, Lubron takes care of the complete commissioning process, including training on operation and maintenance. Our industry-leading maintenance service supports operations and enhances the life of your investment. Should you experience any problems, you have the assurance of support day or night from our 24/7 response team.