Industrial Water Treatment Solutions
With our Industrial water treatment services, it doesn't matter whether water is an ingredient in food manufacturing, or a vital component in an engineering process, its quality affects the production of countless products within the industrial sector. Prolonging the life of expensive equipment and increasing return on investment can be facilitated through optimised water filtration. Lubron is an expert in Industrial water treatment, we can provide advice and assistance in obtaining the best solution for you, whether it's industrial water demineralisation, or industrial water purification services you are looking for, we can help!
Many underestimate the importance of water quality, and the part it plays in everyday industrial processes, which is what makes our water treatment solutions and services so valuable, it is a method of protecting your everyday practices to ensure there are no glitches. 
For more information on our Industrial water treatment services, contact us today, we also offer water treatment solutions for the food and beverage sector, domestic, healthcare, and more.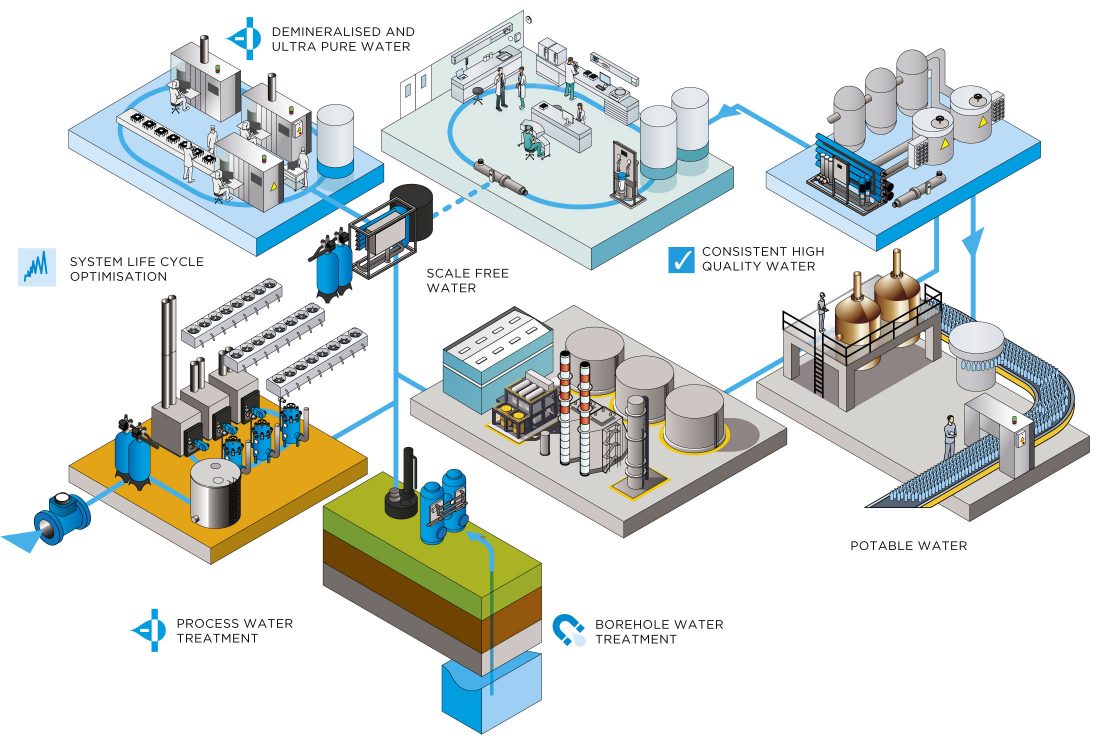 Depending on water quality requirements, a number of Industrial water treatment techniques can be applied.
Our Water Treatment Solutions for Different Indsutries
Advice and support
As a partner of many installers, suppliers and consultants Lubron provides customised industrial water treatment solutions for various industries, including food and beverage, textile, chemical, pharmaceutical, electronics, glazing and construction. Lubron considers the quality requirements for the final product and its specific application tailoring our advice and consultancy to create a unique solution.
Design and assembly
When designing a process water system, Lubron takes into account all aspects of end-use such as quality requirements, applicable laws and regulations, energy efficiency, maintenance and operating costs. Every installation is professionally designed and manufactured to Lubron's leading European standards.
Commissioning and maintenance
As a whole project partner, following installation, Lubron takes care of the complete commissioning process, including training on operation and maintenance. Our industry-leading maintenance service supports operations and enhances the life of your investment. Should you experience any problems, you have the assurance of support day or night from our 24/7 response team.