Industrial Water Treatment
With our Industrial Water Treatment services, it doesn't matter whether water is an ingredient in food manufacturing, or a vital component in an engineering process, its quality affects the production of countless products within the industrial sector. Prolonging the life of expensive equipment and increasing return on investment can be facilitated through optimised water filtration. Lubron is an expert in Industrial Water Treatment, we can provide advice and assistance in obtaining the best solution for you.
For more information on our Industrial Water Treatment services, contact us here.
INDUSTRIAL WATER TREATMENT SOLUTIONS
Understanding your business needs
You know your business best. Once we talk to you, we'll quickly determine what industrial water purification technology is appropriate for your needs. The emphasis will always be on bespoke solutions because no two applications are ever exactly the same. Additionally, we focus on efficiency. We want to make sure that your investment in Lubron is the right solution for your needs, and so adds value to your business.
Understanding the business of water
Although in the UK, potable water is generally well conserved and protected from contamination, it may not be suitable to meet the demands of many industrial and commercial applications. Controlling corrosion, scale and microbiological contamination in industrial water systems prolongs the life of equipment, helps to maximise productivity, and can improve the quality of manufactured products.
Here at Lubron, we understand the importance of designing and applying the appropriate water treatment solution, creating the right water for each environment and application.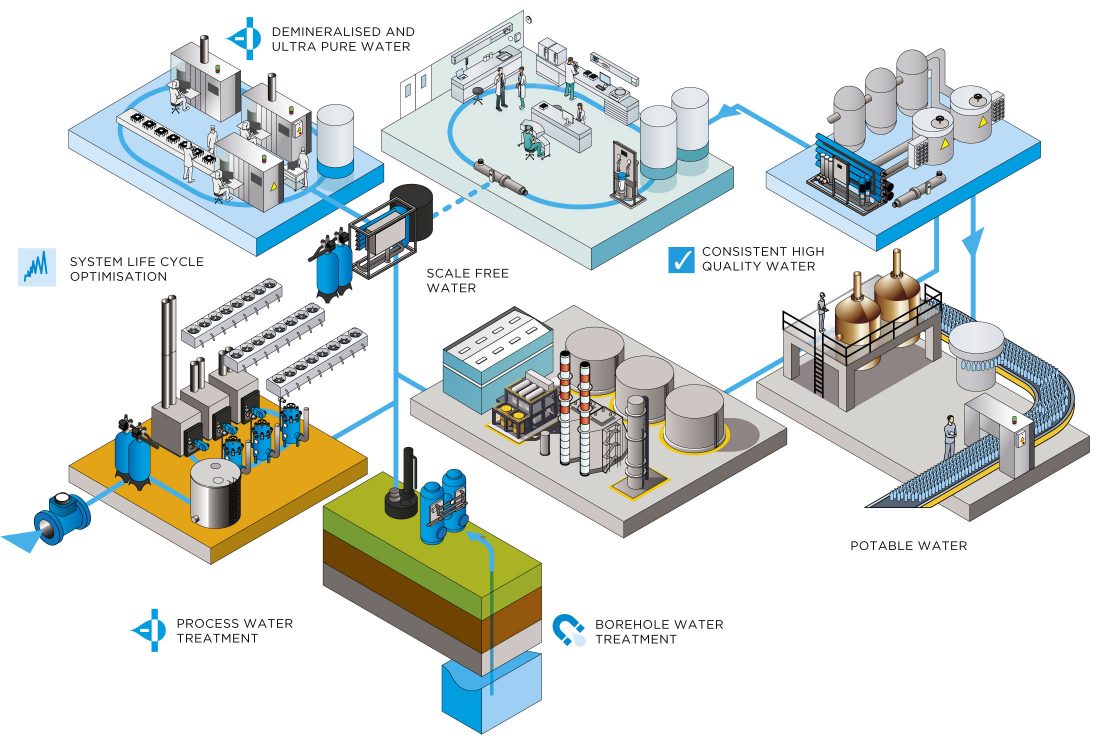 Scale-free water
Calcium, as well as other components such as salts, dissolved and undissolved metals, can leave marks and stains on a number of surfaces. In such cases, using soft water leads to less cleaning materials being used in any industry, which not only saves costs but also optimises the lifespan of the equipment. Lubron can supply an extensive range of water softeners to suit different flow rates.
Borehole water treatment
Iron removal from groundwater and borehole supplies calls for a knowledge of both the chemical reactions involved, and how to engineer systems to ensure these can work effectively. Un-aerated groundwater usually contains dissolved iron salts. Introducing oxygen or air to water causes the iron to oxidise and precipitate. Under correct conditions, it can be filtered and removed from the water.
Potable water
For consistent high water quality, Lubron delivers solutions which significantly improve the taste of potable water and eliminate any unpleasant odours.
Cooling and boiler water
Cooling towers and boilers are used in most industries. Calcium deposits and corrosion are commonplace in those systems, leading to high energy costs as a result of the reduced conductivity. In the worst case scenario, this can cause complete failure of the cooling and heating equipment and potentially, loss of production. To improve efficiency and safety, and guarantee a longer system lifespan, the composition of the water in use should be strictly controlled.
Our industrial water treatment systems
We are proud of our reputation for an all-encompassing quality service that exceeds our customers' expectations. Superior service relies on decades of experience, extensive expertise, commitment and the highest standards of integrity.
Our highly qualified personnel and dedicated support staff treat all customers with equal care and attention. We strive to assess and satisfy your needs and build long-term relationships.
OUR WATER TREATMENT SOLUTIONS FOR DIFFERENT INDUSTRIES
Advice and support
As a partner of many installers, suppliers and consultants, Lubron provides customised water treatment systems for various industries, including food and beverage, textile, chemical, pharmaceutical, electronics and glazing. Lubron considers the quality requirements for the final product and its specific application, tailoring our advice and consultancy to create a unique water treatment solution.
Design and assembly
When designing a process water system, Lubron takes into account all aspects of end use such as: quality requirements, applicable laws and regulations, energy efficiency, maintenance and operating costs. Every installation is professionally designed and manufactured to Lubron's leading European standards.
Commissioning and maintenance
As a whole project partner, following installation, Lubron takes care of the complete commissioning process, including training on operation and maintenance. Our industry-leading maintenance service supports operations and enhances the life of your investment. Should you experience any problems, you have the assurance of support day or night from our 24/7 response team.