Lubron has provided the Pathology Laboratory of the new Derby City General Hospital with a complete Ultrapure water system devised in conjunction with the client's need for a reliable continuous source of Ultrapure water without the need to have individual bench-mounted units, to produce water of various qualities.
A duplex system was provided, containing the key components directly to a Continuous Electrodeionisation (CEDI) system.
The unit was fed with softened water of < 5ppm total hardness from the central water softening plant (also provided by Lubron), which also fed several critical services throughout the hospital.
Due to space limitations the RO and CEDI modules were built on a compact stainless steel frame. (As illustrated).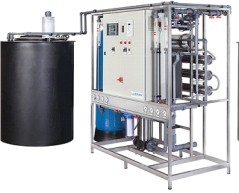 The Ultrapure water system provides water with a conductivity of < 0.07 µS/cm, 24 hours per day, 365 days per year at a flow rate of 750 l/h.
The softened feed water feeds the Ultrapure plant via an automatic back-wash carbon filter to remove any organics and free chlorine dioxide, and a 5µ pre-filter to the duplex RO installation, based on standard Lubron AK 03.40 RO units.
The heart of this RO installation is based on spirally-wound polyamide composite membranes, which ensures that a minimum of 99% of the dissolved minerals present in the water are removed.
The water from the RO permeate is free of bacteria, organic substances and pyrogens and because it is fed directly to the CEDI modules inlet the pure water is produced without the addition of chemicals.
The CEDI stage involves continuous electro-deionisation – a process where the permeate water from the reverse osmosis system is further purified to Ultrapure water.
The most important difference between traditional mixed-bed demineraliser installations and CEDI is the means of regeneration.
The system has an anode and a cathode, as a result of which there is a difference created via a direct current source.
The charge difference draws the cations to the cathode and anions to the anode.
The residual ions go through a membrane and are collected in a concentrate compartment and rejected back to the front end of the RO plant.
At the same time, by means of electrolysis, the water splits up into H+ and OH- ions, as a result of which the ion exchanger resin is regenerated on a continuous basis.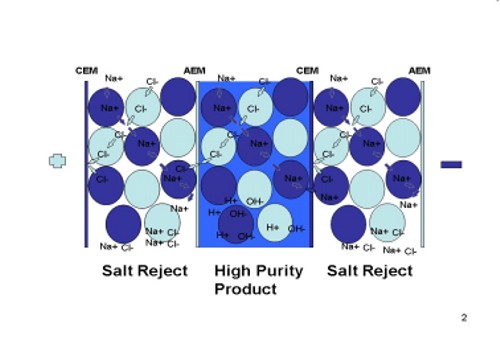 The pure demineralised water has a very low conductivity of < 0.07 µS/cm and very low silicate concentration of < 0.01 ppm.
The Ultrapure water is then stored in a special tank complete with continuously flooded overflow, sloping bottom and specialist carbon dioxide filter/HEPA breather.
Water is distributed using inverter driven pumps around a butt fusion welded virgin polypropylene ring main complete with ultraviolet disinfection absolute filtration and special zero dead leg bench taps.
As a result of this process no acid or caustic regenerant chemicals are required and neither is there need to have any exchange mixed-bed cartridges or disposable membrane filters.