Disinfection Services To Help Make Your Employees Feel Safer At Work
WORKPLACE DISINFECTION
ENSURE YOUR TEAM FEEL SAFE AT WORK
Give your staff the peace of mind that all parts of their workplace have been fully sanitised
Lubron fogging systems use Silver stabilised Hydrogen peroxide to fill the entire room with a fine mist that will kill bacteria and viruses.
The chemical degrades into safe compounds of water and oxygen ensuring no risk of exposure to toxic chemicals for your employees.
The product has proven efficacy against both bacteria and viruses and is used worldwide.
Work must be carried out on unoccupied areas, either overnight or at weekends
Lubron will verify that chemical has reached agreed points in the room at the required concentration and contact time.
No damage or wetting to surfaces or equipment in the room, meaning you can leave all of you computors, printers etc ready to re-start work the following day
Contact us for more information on workplace disinfection and get in touch with an expert today.
TIPS TO SAFELY RE-OPEN YOUR PREMISES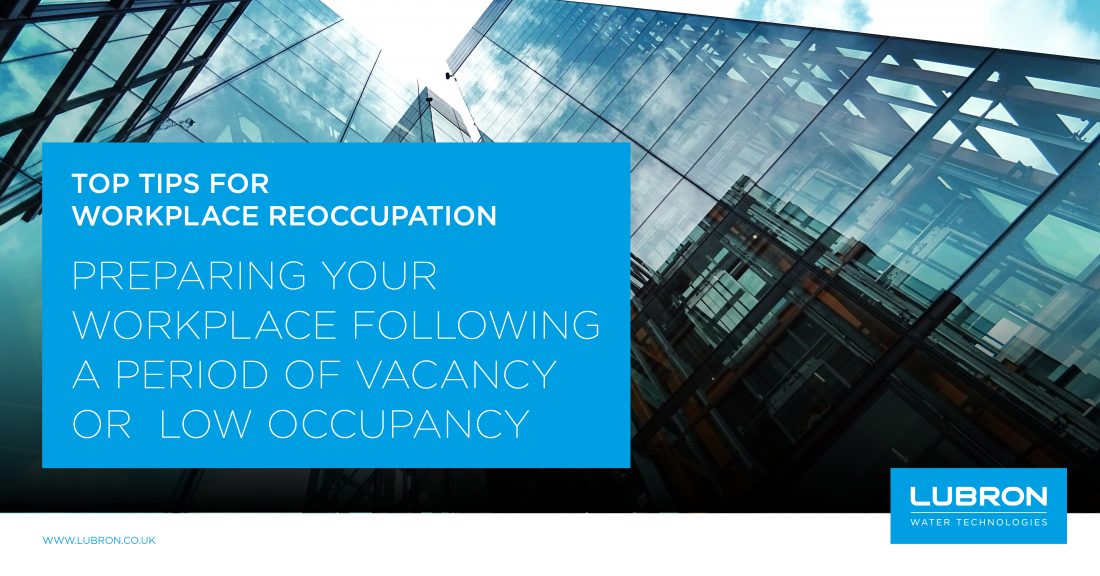 WATER STAGNATION
Depending on how your water systems were left and maintained during the shutdown, there is the possibility that large volumes of water have been left stagnent, aiding microbiological growth.
Warm Weather
The great weather has its unwanted side effects when it comes to water hygiene. The warm weather will have caused significant temperature increases to stagnant water, increasing the risks of microbiological growth and Legionella
FLUSH, CLEAN & DISINFECT
Ensure water systems are clean, free of biofilms and water temperature are within parameters before your teams return to your place of work.
Follow your start up procedures in your legionella control policy if you have one, Lubron can assist with this legal requirement if needed
Ensure sufficient flushing is carried out to remove stagnant water which may have accumulated and potentially contain high levels of bacteria. This can be achieved by a clean and disinfection of the system within a couple of days of reoccupation.
It is also important to note that all these issues can still be present even if peaople have continued to work in your building, but on 'skeleton;' staffing levels. Once the number of users has significantly increased the problems highlighted above can still exist and a sudden increase in usage could expose people to this potential hazard.
Contact us to see how we can assist with your water hygiene issues