Borehole Iron and Manganese Removal
One of our clients, a major regional brewer, recently installed a Lubron Iron and Manganese filtration system coupled with a duplex Reverse Osmosis system, capable of producing 22,000 litres/hour of high quality water.
The system removes the brewer's dependency on their town's mains water supplies and allows for the manufacture of water to a variety of specifications.
Water is pumped from the borehole into a large holding tank, from where it is pumped by an inverter driven triplex booster pump set to the inlet of the duplex filtration plant, which contains a catalytic media to remove Manganese and any residual Iron that has not already been removed by the aeration step on the inlet of the filters.
The filters are backwashed utilising the triplex pump set and the tanked borehole water.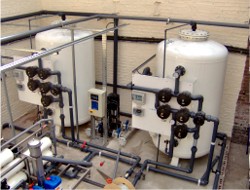 Each RO can be fed by either filter and there is a monitoring system incorporated into the inlet manifold of the RO plants, that ensures no oxidising chemical is allowed to reach and potentially damage the RO membranes, even if the neutralising chemical should fail.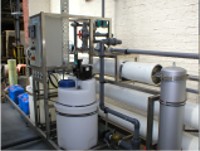 A portable Clean In Place (CIP) system is incorporated into the design.
Pay back for the total installation is under one year.
This process has revolutionised the way our client uses their water and will save them a lot of money for years to come.
Click
here
to find out more information regarding Borehole water treatment, and any other process we can help you with.